Franciscan Well Celebrates 20th Anniversary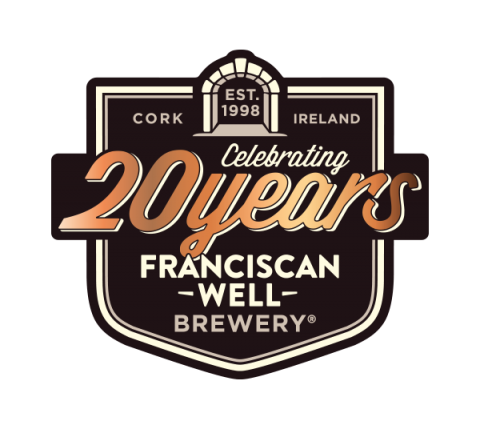 20 Years of Franciscan Well
2018 marks the 20th Anniversary of Franciscan Well of when Shane Long set up the Brewery in the North Mall in Cork. Since then the brand has grown from strength to strength and achieved many milestones along the way. To celebrate this milestone, we are marking this momentous year with a number of initiatives all focused around highlighting:
Awareness of 20 Years since Franciscan Well was set up in Cork

Reinforce our brand heritage as one of the original Irish craft brewers

Reaffirm message of 'Ireland's number one craft beer brand' and a thank you to all customers and consumers who have been pivotal in achieving this

Looking to future with the launch of Archway and more great things to come in our future
Over the past 20 years, Franciscan Well has seen significant growth and numerous milestones, including upwards of 40 awards (nine of which are from the World Beer Awards), the opening of a purpose-built brewery in 2015 (in addition to their founding site brewery which is still operational), countless innovations and collaborations including Jameson Cask Mates and notable mention for the Brewpub on the Lonely Planet International Guide. Shane Long, Founder of Franciscan Well, commenting on the anniversary said:
"We are proud of how much we have grown over the past two decades since starting our small brewing operation in Cork. The recently opened purpose-built Brewery in Cork has given us capacity to bring our award-winning favourites to fans globally, while continuing our innovations at the North Mall Brewery. Looking ahead, 2018 is set to be a big year for us, with plenty of exciting things to come, including a limited-edition birthday brew for our 20th Anniversary. We want to thank everyone who has supported us over the years and we are very much looking forward to what's to come over the next 20 Years and beyond"
A customised logo has been developed to mark the 20 years and this will be utilised through the year in Ireland to reinforce this milestone and bringing into outlet on key forms of communication like Glassware and POS. Some of our other key initiatives included will be launch of a Special Anniversary Brew later in the year, an Anniversary Event to celebrate this milestone & a full Social Media support plan. We are kicking off our plans 12th March with a Franciscan Well commissioned piece of research titled "Ireland's Most Celebrated moments of the last 20 years"