Franciscan Well, Ireland's Favourite* Craft Beer, Now Canned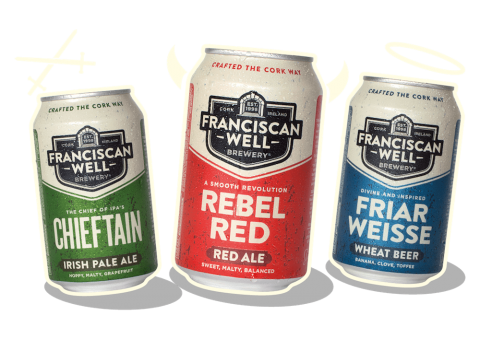 New brand identity also rolled out for the Franciscan Well range
August, 2016: Franciscan Well, which includes Ireland's No. 1craft beer, Rebel Red, among its range, is bringing its award winning craft beer into canned format from August. This new move from the award winning Cork Brewery is in keeping with internationally recognized best practice for freshness and taste with cans providing superior product packaging quality. Franciscan Well will be available in 330ml can format from August, offering greater portability and flexibility for consumers and for Franciscan Well's customers in the off-trade, allowing consumers to enjoy three award-winning beers from the Franciscan Well range in canned format for the first time.
This latest innovation coincides with a refresh of Franciscan Well's brand identity. The entire range will also now feature a new logo, which will better reflect the provenance and Irish roots of Ireland's favourite craft beer range.
Over the past number of years, the popularity of craft beer in a canned format has grown exponentially. In the U.S. canned craft beer now account for all sales in the sector, while here in Ireland that figure stands at 15 percent and it's expected to double over the next couple of years. It's clear that as the popularity for craft beer has grown in Ireland so too has the demand from consumers and customers to be able to enjoy it at home in a can.
Molson Coors will be offering Rebel Red, Ireland's most popular craft beer, in a 330ml can, as well as Friar Weisse and Chieftain IPA, which will be available in the off-trade for the first time.
Speaking about the decision, Shane Long, founder of Franciscan Well, said: "Taste and quality are at the core of our craft beers and we always prioritise ways to ensure that taste and quality are maximized. The decision to move to the canned format reflects the growing trend within craft beer internationally, whereby more and more products are sold in can format. This is something that has been prevalent in the U.S. and has proven extremely popular. We are confident this will be the case in Ireland as we roll out craft in a can for consumers here in Ireland.''
Canning beer offers consumers and customers many benefits over bottles. Cans are more lightweight and portable, meaning they are easier for consumers to enjoy in more places and for customers to display. They are also infinitely recyclable, chill more quickly and, crucially, are better at protecting the taste of the beer.
``We are very excited about this latest innovation for Franciscan Well, coming as it does less than a year after the opening of our new brewery in Cork,'' said Shane Long. ``Since the introduction of craft beer in a can it has proven extremely popular with consumers. It is a very handy, portable way of consuming the beer and one that preserves the taste better than any other.''
As well as being offered in a can, the Franciscan Well range will also feature a new logo.
The new logo more clearly reflects the provenance of the brand and its roots in Cork. The new identity and logo retains the strength of the previous mark, while emphasizing that this is very firmly an Irish beer which was established in Cork and which is still brewed there. We believe that the provenance of Franciscan Well and its roots in Ireland are extremely important and it is something we are very proud of.
The new brandmark positions Franciscan well as an authentic Craft brewery from Cork, Ireland, The archway is (a new devise that has been created to highlight a strong sense of place, that is welcoming and which captures the unrivaled heritage associated with the brewery founding site along with the welcoming aspect of our range of beers. This is especially important to us as we have opened a new brewery in Cork, where all of the beer will be brewed.
*AC Neilsen ROI On-Trade MAT to end June 2016