Shandon Stout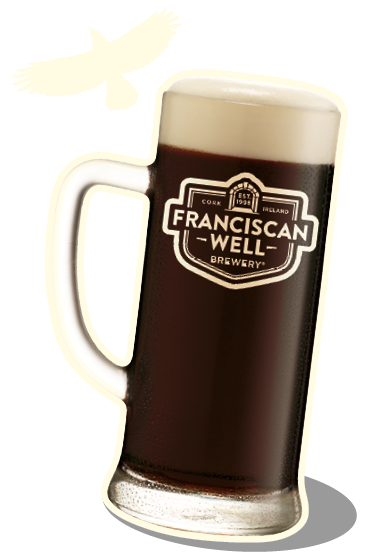 Other beers
DESCRIPTION
Franciscan Well Shandon Stout has a remarkably light style of it's own….Tall, dark and handsome, a drink that's deliciously different and an instant hit with indulgent food. With roasted rich flavours, choclately hints and a dry Irish character, it's a stout that's truly an attractive alternative.
ABV 4.3%
HISTORY
Named after Shandon Steeple - a famous Cork landmark - our stout has quickly become famous in its own right. Tall and dark, it's a handsome alternative to more run of the mill stouts.
FOOD PAIRING
The roasted rich flavours perfectly complement the BBQ dark meats or rich and creamy sauces. Both dark chocolate and coffee deserts will pair with the beer successfully, with the carbonation from the stout cleansing and cutting a rich cake or pudding.
Serve: 6c
Complements: Venison casserole marinated in Shandon Stout
Ingredients: Irish Ale Malt, Wheat Malt and Roast Barley
FLAVOUR PROFILE
Appearance: Black with hints of red. Thick, creamy Tan head.
Aroma: Roasted, Smoky, Chocolate
Taste: The smooth body and lightly roasted notes leave the pallet surprising
Mouth feel: Full bodied with a distinctive creamy Mouthfeel.
Finish: Light roasted bitterness that slowly dwindles.
Other beers